This project doesn't have a before picture, simply because I completely forgot to take one. Sorry, I'm working on that. I got together on Sunday with my crafting friends but not much crafting got done due to eating, laughing, chatting, and planning a spectacular vintage tag sale to be held in June!
Anyway, in between all of that we took a trip to a local antique mall and I found this cute sewing basket. It was a natural brown basket when I bought it, but I promptly spray painted it white when I got home. You can click on the picture for a close up.
The inside is still the natural brown but I think I'm going to put a liner in it. Nothing fancy, just a piece of utility material or a piece of drop cloth left over from my slipcover. I don't think I'm feeling the white though so I may change that to a pastel pink. I was also thinking about doing something on the lid, but the jury is still out on that one.
It is a nice day outside so I took these pictures on my front porch. I'm sitting out there right now as I write this post. Here are some more pictures.
I think it's cute. I've never seen a small sewing basket like this and thought I could use it to hold spools of thread or something.
I am linking up to some White Wednesday parties. So, what are you painting?
Kaye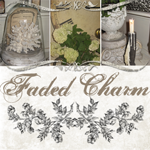 Faded Charm Cottage